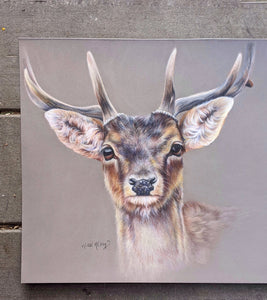 "Uwoduhi Ahwi", means beautiful deer in Cherokee.


The colors and pencil strokes create a soft yet strong and rough feeling to this piece. You can see the texture just pop off of the page. You can feel his thick fur, smooth antlers, and wet nose. His statuesque gaze holds yours as he notices you are there, near him.


This piece was created under the direction of Bonny Snowdon during her Deer Workshop.
Photo reference is from Pixabay.
TITLE: "Uwoduhi Awhi" 
SIZE: 10x13
MEDIUM: Colored Pencil on Pastelmat

This is for the ORIGINAL ARTWORK.