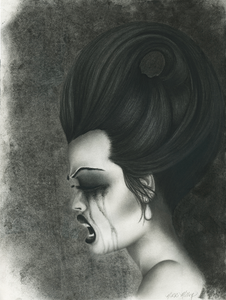 Beautiful Print of a nikki M. original graphite and charcoal drawing, Beautiful Tantrum. Printed on fine art paper with 1/4″ white edge for framing. Shipped flat in plastic sleeve. 

Beautiful Tantrum reminds us that sometimes, even when we are all dressed up, it is okay to cry. Almost all of the time, when we ugly cry, we feel so much better afterwards!
So go ahead and don those pearls, wear the war paint, get the hair done, and just give yourself an awesome, loud, ugly cry! 
ORIGINAL IS SOLD.