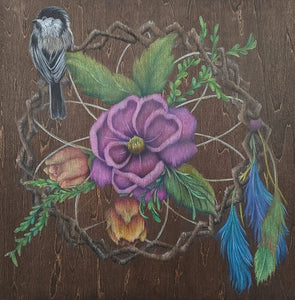 When I was a little girl, I had a really small dreamcatcher in my bedroom window.

It wasn't authentic, just a cheap replica, something picked up at a flea market or craft show, but I loved it.

I was a fearful and very anxious child so to have been gifted with something that would keep bad dreams locked away and allow good dreams to pass through created a safe and calming space for me.

Here is my drawn version of a dreamcatcher. My wish is that it creates for you a sense of hope, peace, and good vibes.
This is for the original artwork.

"Catcher of Dreams"
14"x14"
Colored Pencil on birch wood panel
Clear coated with UV protectant gloss varnish
Ships flat