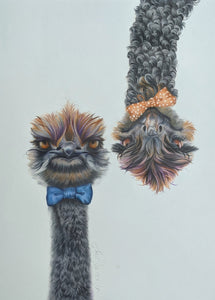 Beautiful Print of a nikki M. original colored pencil drawing, Don't Be Weird. 
Before we leave our house for any family outing I always announce, "hey, don't be weird!" 
It doesn't matter though, we are all still weird! And I'm okay with that. ;-)

This gorgeous painting is drawn with light-fast pencils on light blue Mi Teintes art paper. 
The colors and texture of this piece are stunning!
Art print is printed on fine art paper and shipped flat in a plastic sleeve.
Need a different size? Email me at nicole@nikkimdesign.com