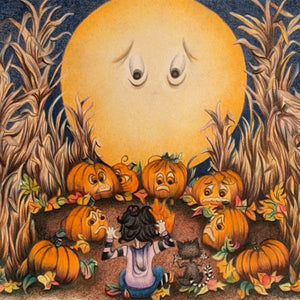 Say "Boo!" with these adorably spooky Halloween / Fall note cards. 

"...and then they took a BIG spoon and scraped out all of Jack's insides! They separated the seeds and put them in the oven while Jack lie gutted on the floor. Someone could be heard laughing about how yummy his seeds were going to taste! It was a gruesome scene and to this day nobody knows what happened to the rest of Jack!"
This set of 4 blank note cards are reproductions of my original colored pencil artwork, Ghost Stories. Each card is 4"x6" and is printed on white card stock and comes with 4 white envelopes. Cards are packaged in a form fitting clear plastic bag and are shipped in a small envelope, first class package.
Single cards also available.
Interested in the original artwork? Click here.