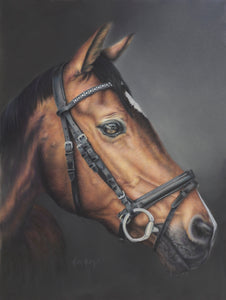 There isn't anything like drawing a horse. Horses represent freedom and power. They see right through us. They don't care who we are, a powerful CEO or a minimum wage earner, they see beyond all of that into our hearts. You have to earn their respect and they will love you unconditionally. 

Those who have experienced a friendship with a horse completely understand.
River displays soft, vibrant colors peeking through realistic features. This is a heartwarming drawing for any person and in any home.
Beautiful Print of a nikki M. original colored pencil drawing, River. Printed on fine art paper with white edge for framing. 
Interested in the original? Click here.
Shipped rolled in tube.