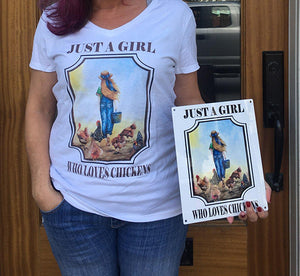 Style: Relaxed Fitted T-Shirt
This t-shirt offers a fitted relaxed fit featuring the sweet artwork, Just a Girl Who Loves Chickens.  
Made from 100% cotton, this t-shirt is both durable and soft with a relaxed yet fitted fit - a great combination if you're looking for that casual wardrobe staple.

White t-shirt with design on front. Shown in photo is a size medium.

Interested in a sign or a print? Click here.