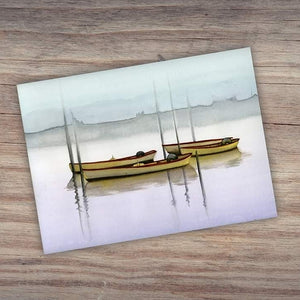 Right now, I wish I were sitting at this water's edge, amidst the fog, feeling the cool breeze on my face and the warmth of a cup of coffee in my hand.

I've dreamed of living on or near the water. I'm getting closer but not there yet. Maybe in a few more years.
Beautiful Print of a nikki M. original watercolor painting, The Harbor.
Printed on fine art paper with 1/4″ white edge for framing.
Shipped flat in plastic sleeve.
ORIGINAL IS SOLD.